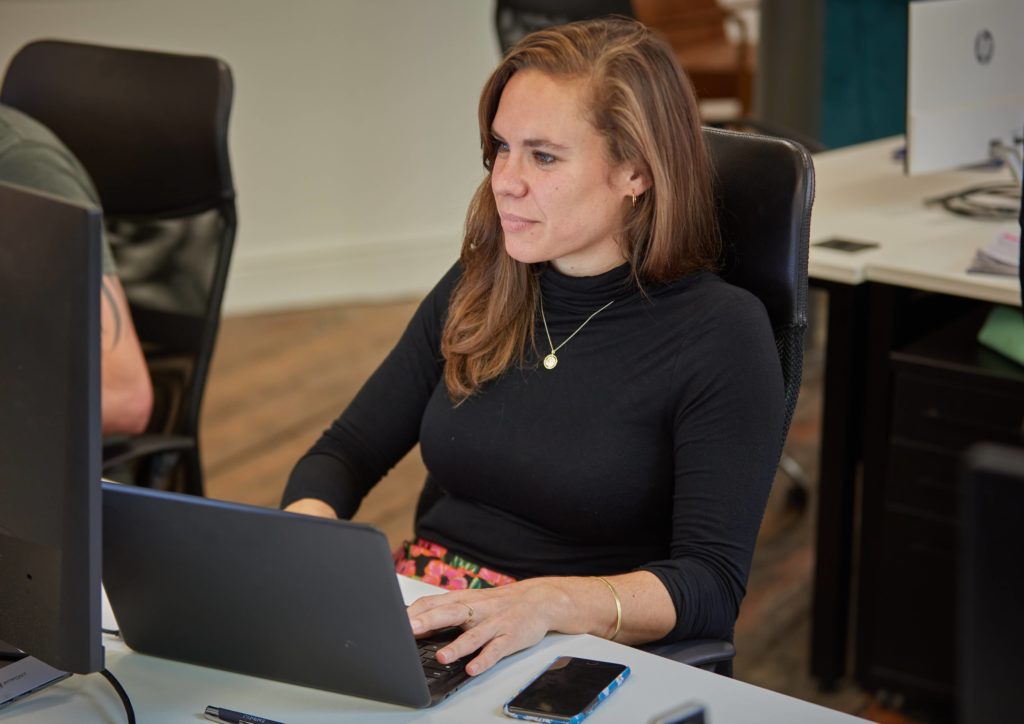 UI/UX Design Services to Elevate your Business
Wherever your organisation is based online, UX & UI design services are absolutely essential if you want to really get the most out of your visual assets or your website.
UI & UX design services can make a big impact if your business wants to:
Increase conversions, both for lead generation and ecommerce businesses
Improve your customer journey and build trust with users
Get the best possible performance out of an existing website or app
To better understand your audience and their behaviour
Prototype new website pages and touchpoints online
Or much more…
At Embryo, we are an award-winning digital marketing agency that is focused on creating unique and innovative websites that apply UX/UI best practices.
We work with clients big and small, building custom sites and offering user experience design services that meet user needs, generate results, and capture the attention of audiences looking to engage.
To learn more about how our expert creative team can help you elevate your UX & UI strategy, take a look at some of our success stories, or get in touch at [email protected] or on 0161 327 2635.
Latest
Latest Case Studies
Our UX/UI Design Process
As an award-winning marketing agency that specialises in web design and development, we have years of experience working with a wide range of businesses to launch successful projects and produce cutting-edge graphic design. (Fancy a peek? Take a look at our case studies to see our creative team in action).
It goes without saying, but good web design is fundamental to your brand's success in the online space.
Customers are your number-one critic and will decide within seconds whether they want to engage with your website over the many others just a click away. First impressions are everything and a beautiful design goes a long way in retaining your audience's attention. At Embryo, we'll ensure your website looks fantastic, is designed with both user perspectives and digital marketing channels in mind, and converts well.
All aspects of our web design process, from research and competitor analysis to the testing and execution stage, are carefully considered to ensure the entire project runs smoothly. We work closely with you to ensure the end product meets all your business objectives and appeals to your target market, as well as staying up to date with the latest design principles.
UX vs. UI Design: What's the Difference?
UX and UI both play crucial roles in the design and development of any digital product – be it a website, app, or game. – ensuring each element is built with real users in mind. Both disciplines are the bread and butter of building digital spaces that customers love to return to.
You may have heard these terms used interchangeably but, although they work harmoniously in any website development process and inform each other, there are significant differences between the two.
First up… User Experience (UX) Design

UX design, or User Experience design, is a human-first approach to product design practices. Breaking this down, the 'user experience' aspect refers to a user's interaction with a product or service.

A UX designer is focused primarily on the user, ensuring that they can successfully use your product/service (or simply your website) with as much ease as possible. As the job title makes clear, their goal is to optimise how the user experiences your offering.

The role of the UX designer is to conduct the necessary user research, including task analysis within a user flow, along with usability testing, to understand how the user feels when interacting with your product/services. The aim is to create a simple, efficient and enjoyable experience by considering as many aspects of the customer experience during the development stage.

At Embryo, we apply UX best practices to our website builds. In this way, we build sites that customers can navigate better, meaning there are fewer obstacles to them converting from casual browsers to paying customers.

During both development and site review, we'll test:

Is the experience straightforward or clunky?
Does the user interaction feel intuitive or is it confusing?
Is the customer journey seamless or disjointed?
Is the user able to complete their desired tasks easily or is it a struggle?

User testing is a critical stage before any website (or product/service) launch – a process in which real users test the interface and functions of a website or mobile application.

The test is performed under realistic conditions to get accurate results, and user feedback will highlight whether the website is fit for purpose or needs final tweaks before officially going live.

Now, to Compare… User Interface (UI) Design

UI design, or User Interface design, relates to the overall look or style of a product. In other words, it focuses on the aesthetic design of an app or website and involves the creation of various visual touchpoints in the customer journey. Based on the principles of usability and likeability, the aim of the game is to produce user interfaces that are captivating and easy to use.

Whether it's a website or mobile app design, the UI design process may include the design or selection of:

Typography
Colour palettes
Buttons
Unique imagery
Audio components
Animation

UI designers, therefore, look after the visual design aspect of a digital product and are responsible for making design decisions that align with your business requirements as well as ticking all the boxes for user experience.

Beyond the visuals, technical considerations also play a role in UI optimisation.

Responsive design is a major player here. In a world where the mobile reigns supreme, ensuring your website responds to various screen sizes while maintaining a high-quality image is critical to a positive user experience. With it almost being an even split – that's 50.48% of web traffic coming from mobile devices – it's surprising how many business owners don't check to see whether their website plays nicely across different devices.

With desktop computers, laptops, tablets and mobile phones being available in many different dimensions, the key is flexibility. Our Design team uses flexible layouts, images, and CSS (cascading style sheet) to ensure your website perfectly fits any screen.

At Embryo, we place great importance on both UX and UI to deliver an exceptional final product that is aesthetically appealing, user-friendly, communicates your brand values and captures your brand's image.

Looking to redesign your website or, just getting started, build a new one from scratch with an expert web design team at the helm? Let's talk.
What Can a UI/UX Design Agency Do for You?
Designing, developing, and launching a website can be time-consuming and expensive. Websites and apps are complex but critical products that can truly have an impact on your brand's growth and digital marketing performance.
A UI/UX design agency will not only deliver a professional, functioning and impactful website for your business but will prioritise your users, provide valuable experiences, and therefore ensure longevity for your brand.
Want to set your business apart, increase brand recognition, and leave a lasting impression on your customers? Smart web development and a dedicated team of design experts that know what they are doing will make all the difference – it really is that simple! With a user-first approach, our websites are clean, informative, secure and well-designed.
Identify Weak Points in Sales Funnels and User Journeys

Think about how much time you spend online, whether it's the weekly food shop, ordering that last-minute present or just having a browse. With the digital space continuously expanding and user journeys becoming increasingly more complex, customers are looking for simplicity, efficiency and authenticity.

Putting it bluntly, a positive user experience is dictated by a seamless user journey. A customer journey map is a great way of tracing the multiple points between the user and the website that need to be designed.

A good UX design, which prioritises the customer, is able to identify any weak points in the sales funnel and create a website that is:

1) Easy to navigate

2) Intuitive and logical to the user

3) Carefully considered with effective calls-to-action

4) Unique and engaging

5) Clearly communicates your brand's story through well-crafted and well-organised content

In a nutshell, UX insights are critical in analysing patterns of behaviour and understanding user expectations. This contributes to the creation of a website that is not only aesthetically pleasing but manages to keep your users moving through the funnel, from their initial interaction with your brand to a purchase decision and their return as loyal customers.

And so the cycle continues…

Trial New Ideas and Improve Conversion Rates with A/B Testing

Innovative web design is fuelled by two things – a team of forward-thinking experts and thorough usability testing.

A/B testing is an effective way to compare two or more variations and identify which is a development-ready design. The web design favoured by real users will usually indicate the strongest approach, giving an accurate reflection of performance and therefore improving conversion rates for the final product.

There are several considerations to ensure this process runs smoothly and is successful:

Create a strong hypothesis
Ensure your test ideas are feasible and align with wider business goals
Prioritise the user experience

As a results-led agency with years of experience, we use data-driven insights to fuel new ideas that can boost your digital presence, appeal to your target customers and are conducive to business success.
Turn Wireframes and Prototypes into Final Designs

User interface design is invaluable to the development process. The UI is part of the front-end development of a website and the point at which the user interacts with and determines their main impression of your brand.

We all know that a badly designed, sluggish or complicated website can be incredibly frustrating. Put simply, a bad user experience will result in poor brand performance and the loss of a customer. It's therefore crucial to tackle any issues at the prototype phase before moving into the final design.

The trick is to create strong wireframes that prioritise the user and strike the perfect balance between sleek, original graphic design and a simple user flow that directs the customer towards a conversion.

The job of the UI designer is to then bring those wireframes to life and create prototypes that accommodate brand requirements whilst focusing on the overall user experience.

There are several ways that user interface design can benefit your project.

Although templates are a good starting point, a UI designer can bring a creative edge to your website and elevate your brand above industry competitors.

With a strong focus on brand awareness, UI also establishes a design guideline to ensure consistency across the final site and improve your recognisability within the digital space.

Finally, effective UI design can trigger an emotional reaction from the user, influencing their consumer behaviour and pushing them towards a purchase decision.

User Experience (UX) Copywriting That Inspires Visitors to Become Your Loyal Customers

Your content needs to convert. Plain and simple.

At Embryo, we know great copywriting inside and out. At its core, the content on your website should represent your brand in a way that is useful and entertaining to the user – combining visual appeal and relevant information in a way that addresses your audience's needs.

To truly engage a user, you need to have a good understanding of who they are and what they want. That's where the UX research and user personas come in – these constructed archetypal users that we create through extensive research, representative of the goals and characteristics of your target audience, act as the foundation of any successful web content.

As well as ensuring that the tone and messaging style is appropriate for your customer base, our dedicated Content Marketing team will produce concise, structured and reader-friendly copy that will play a big role in the overall user experience.

During the build, our team will work with you to create a content strategy that aligns with your wider business goals.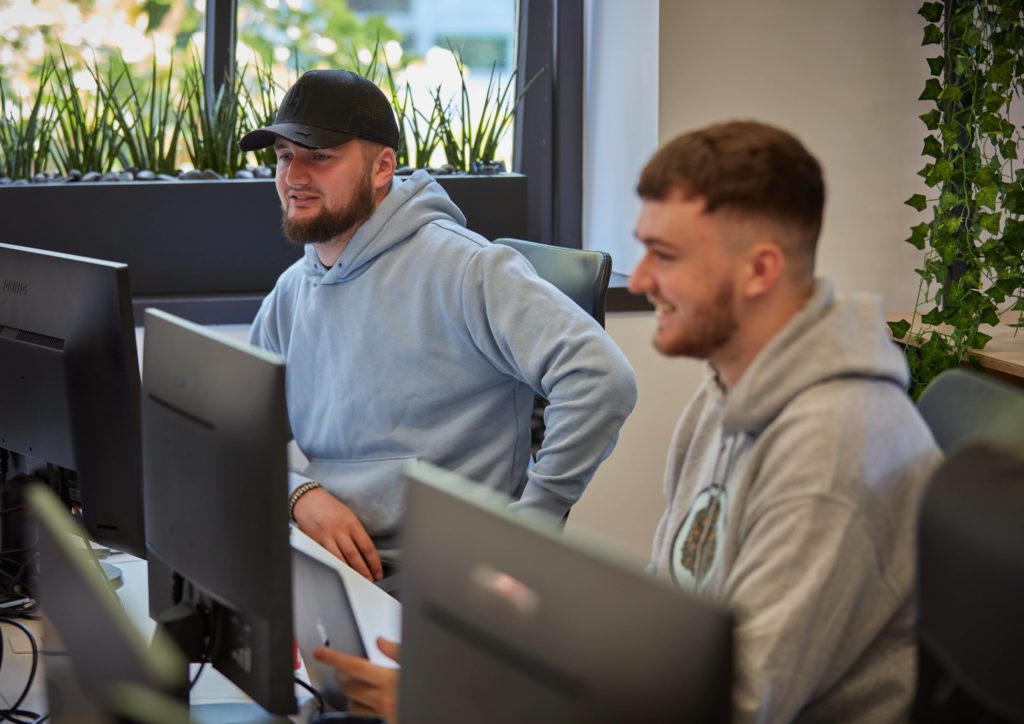 Why Doesn't Your Website Convert?
Getting traffic to your website is only half the picture and convincing your users to invest in your brand can be tricky. This is usually down to a combination of your website's aesthetics, functionality and navigation, and your digital marketing efforts. Luckily for you, we specialise in both!
Conversion rate is an important measurement of success for any online business owner and there are several factors to consider:
Do you have a good understanding of your target audience?
You might be acquiring a significant amount of traffic, but is it the right type?
Does your website have a straightforward user flow or is it clunky and problematic?
How compelling is your offering?
Is your website exciting or just another URL?
How complex is your user interface?
Are your landing pages fully optimised, with clear calls to action that are on-brand?
Does your content accurately represent your brand and is it engaging?
FAQs about UX/UI Design
What is the main purpose of UI UX?

The main purpose of UI UX designing services is to help maximise the potential of a website's design and improve the usability of the site. Through research, design, and testing, UI and UX can improve conversion rates, make the user experience smoother and more positive, and enhance the aesthetics of a site.

Is UI UX just a design?

Not at all! UX UI involves all of the principles that go into regular designs, plus a whole lot more! While all web design takes UI and UX principles into consideration, specific UX and UI designs are a specific field of study.
Can anyone be a UI designer?

Learning UI design can be challenging, but there are lots of resources available to help you! If you have a strong design background and an interest in the theory of human behaviours and user stories, UI design might be right for you.

What is the scope of a UI UX designer?

UI & UX designers cover lots of different areas, from conversion rate to block design, to colour schemes, to buttons and fonts. They can also make recommendations in collaboration with many other departments, but things like copywriting and the actual website build are generally outside of their skill set.

Ready to get started? At Embryo, we combine UI/UX expertise with talented designers and a deep understanding of effective digital marketing. Start your growth journey with us today.