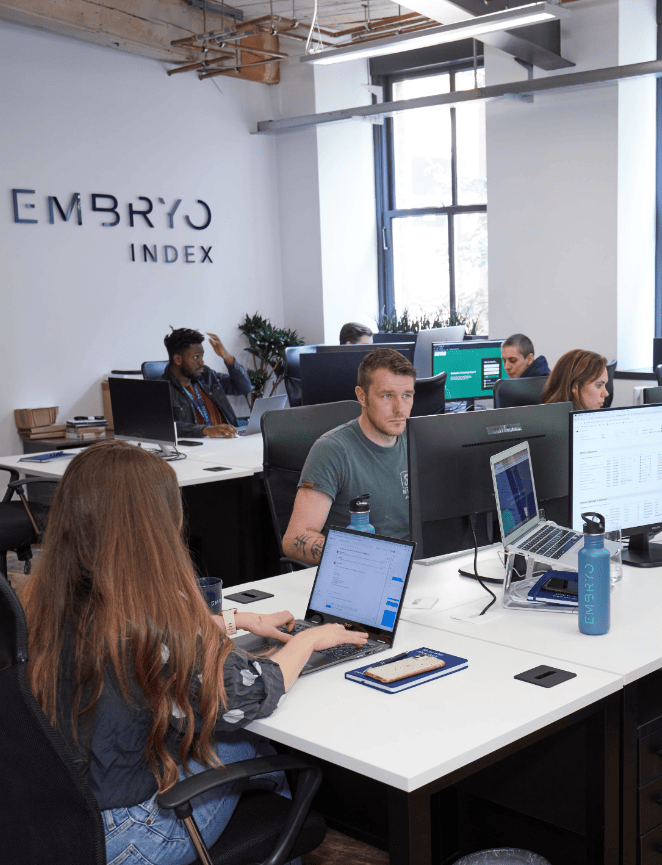 Web Development Services
Are you worried that your site is all talk and no action?
Maybe it's under-performing and you don't know why.
Or maybe your site just feels bad – slow, sluggish, and un-intuitive.
As one of Manchester's leading web development service agencies, Embryo is here to help. From full website development to hosting, to troubleshooting, our full stack developers and specialist web designers can help.
Our expert development team can take static designs and develop a fully-functioning, interactive and user-friendly website that guides your users down the right path and meets their every need.
To learn more, take a look at some of our incredible project case studies, or get in touch at [email protected] or on 0161 327 2635.
The Website Development Process with Embryo
When choosing a partner for your website development project, you need to find an organisation you can trust.
That means technical expertise, great communication, transparency and honesty, and a willingness to get things done to the highest standards.
As your website project partners, we'll be your development specialists, managing every step from sitemap and wireframe creation to implementing content management systems (CMS) such as WordPress, WooCommerce, Magento and Umbraco that bring your website to life.
1
After reviewing your current website and discussing your objectives, audience and competitors, we'll define your new website's technical scope, sitemap and architecture.
2
Using static website designs that place your branding at the forefront, we'll create visuals such as the home page, buttons, call to action (CTA's) and photography and ensure you're happy with the final designs.
3
We'll then set up your CMS, inserting our fantastic designs and configuring needed plugins and code such as JavaScript, PHP, HTML, .net and CSS for a fully responsive and scalable website.
4
We then populate your website with content and assets and optimise them for SEO purposes to get your wonderful website found.
5
Before going live, we'll test website performance on various devices and browsers and teach you how to use your CMS for effective operation.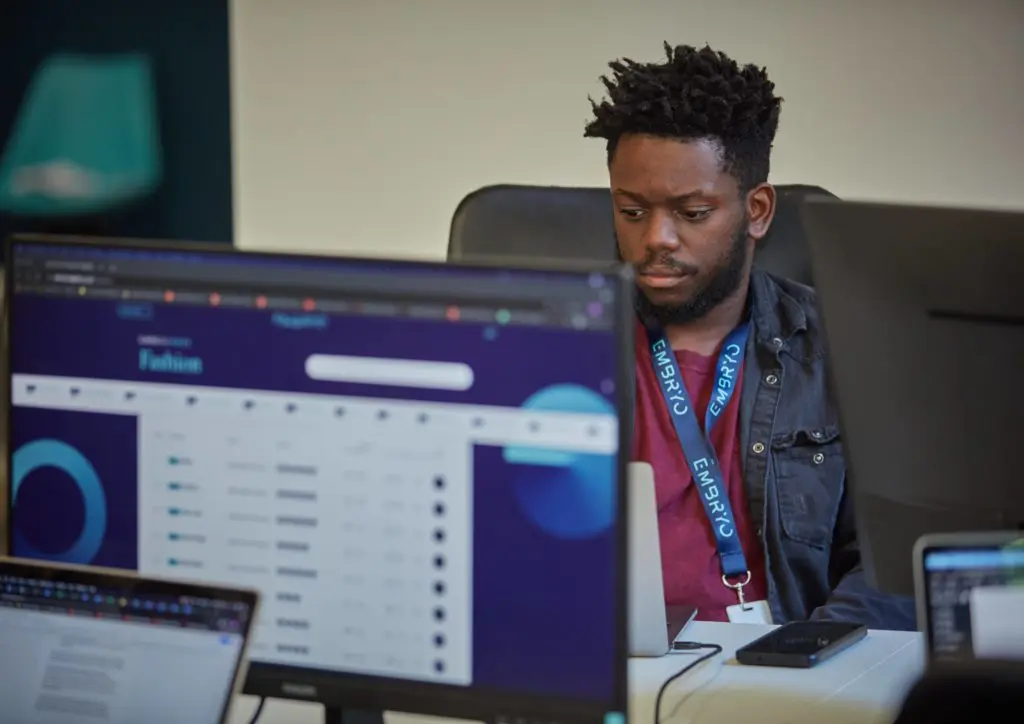 Why You Need Our 'Web Dev' Team
Your website should be more than just an online brochure. It should create leads, drive sales and encourage repeat visits. Otherwise, really, what's the point?
Your website may have the looks, but if it's riddled with development bugs, useless code and malfunctioning links and buttons, then it simply won't convert.
Good looks can only get you so far, and if potential customers can't use your website properly, what incentive is there to continue their journey or come back for more?
You could offer the best products and services in the business, or create content that regularly captivates your audience, but if your customers can't fill out your enquiry form or easily pay for your must-have merchandise, then your website is only hindering your aims and reputation.
In fact, 89% of consumers choose a website based on ease of use when given two similar website options and are unlikely to revisit a site that appears untrustworthy or unprofessional.
At Embryo, we've seen the success our web development services have had in helping our clients increase website traffic, generate leads and boost business growth through their online presence.
We place your goals at the heart of everything we do and our development strategies showcase this. Whether it's adding layered navigation for shopping efficiency, creating a 'live chat' feature to improve customer service or designing and developing a whole new website, you'll see results that will make a real difference to your brand.
What Makes Our Web Development Projects Different?
We don't use websites like Wix or Squarespace. We integrate CMS systems and adapt them for each project, placing bespoke design, functionality and the customer journey at the forefront.
We can create applications that complement your website, giving your customers something unique and fun to interact with.
Everything we create is mobile-friendly, ensuring your website works well when your audience is on the go.
Our web developers follow a strategic process, with proven successes in markets spanning:
Insurance
Cosmetic surgery
Kitchens
Housing
Industry
Event spaces
E-commerce
And many more…
Whatever your goal, your website will be built with that in mind.
Building the Perfect Online Storefront for your Business

A well-developed website essentially allows potential customers to virtually "pop in" to your business, and get what they need, when they need it. This means that having a website that has been designed to help people get what they want quickly and easily without confusing them is going to net you a bigger audience, more results, and help you stay ahead of the competition.

Your website is the most credible platform your company has to communicate with your audience. With excellent web design, you can promote your services in just a few clicks to a massive global audience.

Plus, having good web development ties in with your company's performance in all aspects of digital marketing – even if you're bringing in traffic through other channels, like social media, PPC or SEO.

Prioritising User Experience with Design and Functionality

A well-designed, clean and informative website is going to set you apart and leave a lasting impression on your visitors.

A frustrated user is going to lose patience and leave your website. Good web development makes sure this never happens.

Being a web developer is a bit like playing bass – the better you are at it, the fewer people notice you. It's all the behind-the-scenes stuff. A good web dev works hard to make sure that users have a clean, enjoyable and productive visit without ever once thinking about the mechanics or navigability of your site.

Good websites prioritise the user experience.

You want your site to be visually engaging while providing authoritative content and information, and you need people to easily move around from one page to another.

Web Development That Makes Google Happy

We're an SEO and digital marketing agency. That means that we know just how important on-page SEO is to your longevity and organic search reach. So how is your web development involved?

Improving the visitor experience is a huge part of on-page SEO. If your website is frustrating to navigate with all the information tucked away underneath hours of scrolling, people get frustrated. Then they leave, and your bounce rate goes up. And guess what? Google really doesn't like that.

Web development also affects how you publish your content, and that affects how Google crawls and indexes your site. You can't really afford to get this wrong. This means that right from the start, your web development is influencing your site's visibility and rankings.

Sound like a lot of work? Frankly, it is. But we know what we're doing. For us, web development is one part of the digital marketing process.
Your Web Development Questions Answered:
Yes, WordPress is based on PHP and we predominantly develop WordPress websites. The benefit of using PHP is that it is open-source, which basically means anyone can use it, and contribute to it, and it is continuously being updated and improved.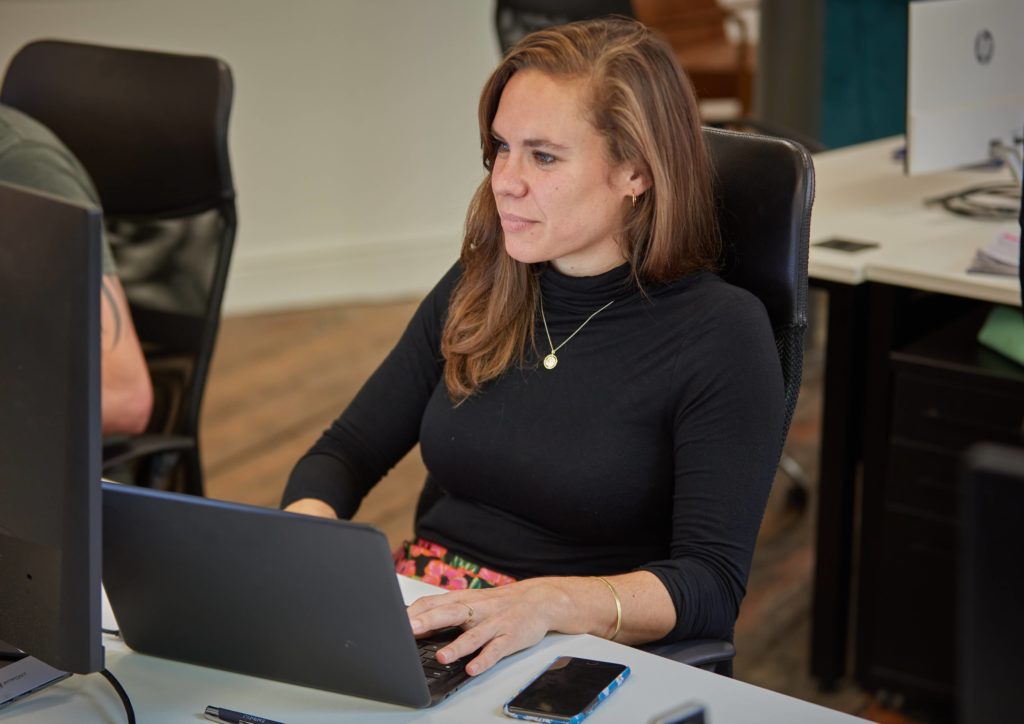 Why Should You Work With Embryo for your Web Development Services?
We are a thriving full-service digital marketing agency based in Manchester specialising in lead generation, web development, web design, SEO, social media, and content marketing.
We strategise how best to meet your needs, using the dazzling talent within our office to develop websites that are really something else. Each new project showcases how sensational our work is, and the positive effect this can have on your business. No task is too big. No goal is out of reach. It's no wonder our clients always want more.
If your website has been experiencing issues, and you'd like to expand its capabilities or create a whole new website from scratch, then let's develop this together. Get in touch at [email protected] or on 0161 327 2635.