What's 'erp? Or rather, what is SERP, exactly?
Whether you're new to the magical world of marketing and search engine optimisation – or just want to brush up on the basics – SERP analysis is a great place to start. 
With search engine optimisation being the arguable bread-and-butter for online content specialists, PPC experts and keyword SEO strategists the world over, it's more important than ever to make sure those organic clicks translate into conversions. 
After all, ranking factors are changing all the time and with a heavily saturated online market, it's crucial for digital marketers to understand search algorithms and which approach will work best for their target audience. 
In this guide, we'll give the who, what, when, and why of all things 'Search Engine Results Page' – and even let you in on the things that make complex algorithms fall for your strategies.
Just call us William Serp-speare.
(No? Thought not).
Do you know what is a million times better than our puns? Our digital marketing campaigns. So, if you know you want to show up in SERPs but don't have the time to invest in organic marketing channels then why not speak to our sales team by phone at 0161 327 2635 or email [email protected]?
What Is a SERP, Anyway?
When it comes to search result features, SERPs are the very foundation on which Google search is based. A SERP – or 'search engine results page' is the familiar page you see after you enter a question or query into Yahoo, Waldo, Bing or any other search engine. 
With Google holding the lion's share of the market (over 80%), this blog will focus on its features and stylings, however, each engine might offer its own unique filters to produce useful results.
Typically, Google's algorithm will process around 3.5 billion searches per day, usually including organic listings such as keyword-rich content, alongside paid search and pay-per-click (PPC) ads.
These two types of content make up the wider organic results that are served up to you when you click 'Google' – and are the laborious results of search engine algorithms and top-ranking pages.
Search engine optimization (SEO) can be utilised to improve an organic ranking position on a search engine results page, as users generally prioritise higher results due to a number of factors, such as ease of access, authority bias, and a number of other tasty behavioural science indicators
Recently, the introduction of schema markup has made search engine results pages (SERPs) even more complex – as they strive to provide a better experience as search engine users navigate the Messy Middle. 
So What's Being Served up in My SERP?
Organic Results 
Compared to the ancient days of Google (only a few years ago) – organic results used to be the only things you could navigate on a SERP.
Back in 1998, Google processed around 10,000 searches daily. Over the years, the search volume experienced almost exponential growth, exceeding 1.2 trillion searches per year – with the SERP changing to produce more useful information, such as the Knowledge Graph. 
So let's look at a search on fudge, for example.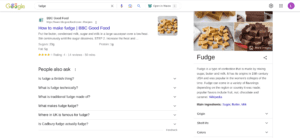 This box on the right side of this SERP on fudge is called the Knowledge Graph (also sometimes called the Knowledge Box), which was first introduced in 2012. This feature gathers data from various sources on the web and presents concise answers to commonly asked questions in a centralised location on the SERP, making it easier for users to get the answers that they want. 
To determine which results get to the top of a SERP, Google uses an elaborate system of over 200 ranking factors to determine your position. 
This is where Search engine optimisation comes in, helping you examine various working elements such as meta-descriptions, content quality, keyword SEO, and more to boost your site as highly as possible. After all, 67.60% of all the clicks on SERPs go to the first five results on the first page.
But more on that later. 
Paid Results
The other results that are shown on a SERP are paid, with the 'sponsored' posts in the example all falling into this category.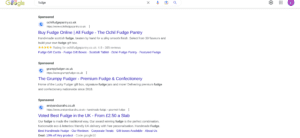 Usually, prime spots for PPC ads will form the three text-based ads at the very top of a SERP, with more space for ad extensions and Google shopping ads (which are image-based) peppering the page. 
E-commerce retailers' product information can be seen alongside other organic results on the SERP. As part of the search user experience, shopping ads can also contain a wide range of information, such as product availability, user reviews, special offers, and more – helping search surfers make informed decisions when navigating their particular query.
For example, if I had a hankering for fudge, I could find out more about its history, what goes into it, recipes, and finally, where to buy some of my own… without having to scroll beyond the top fold. 
How's This Changed over the Years?
A lot happened in 1998. We watched Godzilla and decided on the Euro, brought Furby's into our homes and witnessed the birth of Google's online search – just as the internet experienced a huge 'website boom'.
With an abundance of information, it became challenging to identify content that was useful for users. To address this issue, Larry Page and Sergey Brin, co-founders of Google, created the PageRank algorithm. This algorithm is intended to sort web pages on search engine result pages (SERPs) depending on their relevance to a query, presenting ten organic results to the lucky user – something that has only changed a few years or so ago. 
Nowadays, Google's SERPs have plenty of extra features and information available – that sometimes negate the need to even click on a website – such as: 
Image Carousels 

Google Adwords and Google Ads

Knowledge Graph

Quick Answers
Google Search Engine Result Pages (SERPs) have evolved over time, with AdWords being a contributing factor – but that's not all. 
The new Google search results have developed from a simple search for web pages to a universal search (known as 'Universal Search') for all online content, with more and more features being trialled and tested day in and day out.
In order to help sort the immense amount of information and data required for the millions of daily searches for documents and content on multiple devices, Google has come up with many new methods for information processing over the past few years.
What about the Future of SERP?
Time waits for no man – and neither do SERPS.
Google periodically updates its search results, starting with a small group of users before the SERP update is implemented globally. These take into account the way we consume information and interact with it online, such as the proliferation of mobile use and keyword variations.
Within the last few years, individuals have had access to previews of the following features:
Google displays search results in two columns
A search feature that integrates with SERPs has been tested
Paid adverts in local search results
A timeline as an added extension to the Knowledge Graph
In all of the above examples listed, the test results led to the ideas being revised or scrapped. 
But as SERP never sleeps, we can imagine them being re-imagined or implemented in other ways. 
Different Keywords = Different SERPs?
A list of keywords is never going to throw out the exact same set of results. Why? Because it's all about search intent, whether that's for personal or commercial use.
The SERPs generated in response to a search query will vary depending on the type of query, which can usually be classified as navigational, informational, or transactional.
Informational Queries
Information queries are made to gain knowledge on a specific topic, like background facts or instructions on how to complete a task – such as 'the best fudge recipe', for example.
Through the use of this long-tail keyword, I am attempting to learn more information – rather than make a transaction. But if I'm presented with the correct content, this could lead me to seek out a brand's page as part of my search for deliciously squidgy knowledge.
Crafting content that meets the wants, needs, and interests of your audience is a key factor for success – which is why a multi-channel strategy can be an effective way to accomplish this.
Some ideas to consider might be:
This blog post provides helpful tips for your readers.

A video demonstrating how to use your product or service.

An infographic that can be shared.

A guide available for download.
When a person searches for a certain website without typing its full URL, this is referred to as a navigational query. However, it may be challenging to appear on the first page of search results – especially against populated keywords – unless the searcher is looking for you in particular.
To maximise visibility for your website through navigational queries, one option to explore could be purchasing ads for keywords related to your business, such as its name.
Transactional Queries
As the name suggests, people make transactional queries when they're thinking of buying something, like a particular product or something from a larger category.
Transactional queries typically have higher revenue potential, which means more competition for pay-per-click spots. 
People will be able to view both organic search results and relevant sponsored results in response to their transactional queries, so it's important to curate your content to meet the needs of your audience – even if you've paid for that spot. 
Using a Multi-Channel Approach to Show Up in SERPS
The only way to be counted is to show up.
It's a principle that goes for SERPS, too. While an SEO on your account is great for strategic planning, helping with any technical tweaks and overall optimisation, ensuring every part of your website and digital marketing efforts are tailored for picky SERPS can go a long way. 
From the creation of high-quality content designed to drive organic traffic to your website, helpful images, targeted ads, a strong link profile, and a strategy tailored for search engine optimisation, your website can capitalise on those crucial trust signals. 
Because if a search engine considers your website useful, trustworthy, and interesting, then it's going to ensure your content shows up for those in the search bar.
Which is an investment certainly worth its weight in clicks. 
So if you're looking for help driving organic growth, or want to explore a multi-channel approach to your digital marketing efforts, get in touch with our team of specialists today!