The Big Embryo News Report 2023: The Inside Scoop on UK Digital Newspaper Trends and Reader Engagement
In the rapidly evolving landscape of media consumption, UK news publications once held a significant role in shaping public opinions. However, with the rise of social media and the ability to instantly circulate information across platforms to various audiences, their influence is not as strong as it once was.
As digital platforms have become the primary source of news for many stories to be spread with the click of a button, understanding readership patterns, engagement levels, and the impact of social media interactions has become crucial for the success and relevance of news outlets. 
With results such as males holding the majority of readership across all publications, iNews provoking the highest percentage of anger in readers and The Daily Mail consistently maintaining a significant readership across the majority of generations, this industry report aims to provide an analysis of 47 of the most prominent digital news publications in the UK.
The aim of the report, conducted by the digital PR team at Embryo, is to shed light on how different generations consume news, which publications are most engaging to their audiences and the extent to which articles provoke emotions in audiences through social media reactions. 
To learn more about how Embryo can play a part in your digital marketing strategy and industry reports, get in touch with our team by phone at 0161 327 2635 or email [email protected].
Preferred Newspapers by Generation
From Gen Z born into the digital revolution to Baby Boomers who learned to adapt, the shift from print to digital media has resulted in a change in the way different generations engage with news content.
By analysing data on newspaper websites visited within the past 30 days, the preferred publications of each generation can be identified: 
Gen Z (1997 to 2012): The Guardian and The Daily Telegraph

Millennials (1981-1996): The Guardian and The Daily Mail

Gen X (1965-1980): The Daily Mail and The Guardian

Baby Boomers (1946-1964): The Daily Mail and The Sun 

Silent Generation (1928-1945): The Daily Mail  The Daily Express
It's evident that different generations show different preferences when it comes to visiting newspaper websites. The Guardian is championed as the most popular newspaper website among Gen Z, Millennials, and Gen X, indicating a strong appeal to younger readers. This could be seen as a competitive advantage as it can explore tactics to retain its audience as they age into older generations. 
The Daily Mail consistently maintained a significant readership across all generations except Gen Z, highlighting its current mass appeal and popularity. As Gen Z has grown up in an era of fake news and misinformation spread through digital channels, they tend to prioritise reliable and credible news sources. As the Daily Mail has faced criticism in the past for its journalistic standards, Gen Z might be wary of the credibility of their articles.
In terms of gender split, all 47 news publications had a higher percentage of male readership, from The Daily Star Sunday (68.47% male) to The Mail on Sunday (55.97% male). This points to the female readership preferring to gain their knowledge on the news from either radio, social media, or magazines.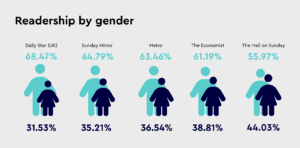 Attention in the Age of Distraction: How Engaged are Readers?
The constant stream of content delivered to us through screens has created a society where shorter attention spans have caused concentration to become a commodity. As a result, news articles are battling to hold onto the attention of readers for just a short while.
As information becomes increasingly shorter, readers have adapted to skim, scan and scroll to seek information. This shift in attention patterns has caused news publications to constantly rethink their strategies to capture the attention of readers, increase dwell time on their sites and increase their levels of engagement.
The Guardian took the lead in capturing the attention of their readers as on average, users read around 3 articles whilst on site. When it comes to engagement (based on sharing articles on social media), the Daily Mail took the lead with 1,922 articles shared in the past 30 days, which suggests that its content is perceived as interesting, engaging or thought-provoking by audiences, prompting them to share it with others. In comparison, The Scotsman and Nottingham Post both only had 22 articles shared.
This information suggests that the Daily Mail is experiencing a high level of engagement and interaction on social media platforms. The fact that its articles were shared 1,922 times in the past 30 days In contrast, The Scotsman and Nottingham Post's much lower number of shares (22 each) might suggest that their content is not being shared as widely or generating as much interest on social media during that period.
The strong engagement of The Guardian can be attributed to the publication being the most popular amongst the younger generations of Gen Z, Millennials, and Gen X. The same can also be said for  The Daily Mail which has been found to be the most popular publication amongst all generations, except Gen Z.
In contrast, iNews ranked lowest for visit duration (1 minute and 6 seconds). This could be down to their articles being lengthier than competitors, meaning readers lose interest.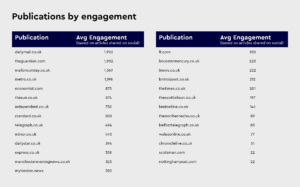 Reader Sentiment: News Reactions on Social Media
Sharing articles across social media platforms is a way for readers to share their interests, thoughts and values with their networks. Whether driven by the desire to inform, generate discussions, or simply share content they find funny; sharing articles on social media allows news platforms to reach wider, like-minded audiences. 
It has been found that nearly two-thirds of young adults in the UK rely on social media platforms, particularly TikTok and Snapchat, to access news.
To identify the emotions that stories provoke in readers, engagement through reactions given to articles once shared on social media was analysed to find publications that received the highest emotional reactions (by percentage of all reactions received on all posts) for each reaction type:
Love: The Mail On Sunday (52%)

Angry: iNews (41%)

Haha: The Daily Star (36%)
The publications that received the lowest emotional reactions (by percentage of all reactions received on all posts) for each emoji type were:
Love: iNews (16%)

Angry: Daily Star (8%)

Haha: Mail on Sunday (9%)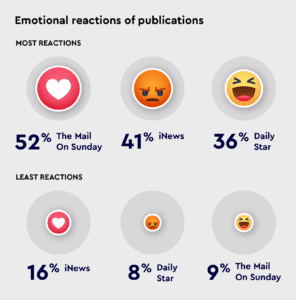 As The Mail On Sunday stands out with 52% of love reactions, this shows that its content often resonates with readers on a positive and affectionate level. This could suggest that The Mail On Sunday's articles frequently touch on topics that strike an emotional chord, such as heartwarming real-life stories or cheerful narratives. 
iNews gained 41% of angry reactions, which shows that its content tends to provoke strong feelings of frustration or unhappiness among readers. This suggests that iNews covers controversial stories that lead to heated debates and passionate responses from their audience. This helps provide a clear justification for why the publication also received the lowest percentage of love reactions (16%).
As  The Daily Star's tagline is 'Home of Fun Stuff', it is no surprise that it gained 36% of 'haha' reactions. This shows that the publication leans towards lighter, more humorous content, focusing on entertaining stories with a sense of lightheartedness. The Daily Star also ranks lowest for angry reactions (8%), it shows a lower tendency to incite anger or frustration, due to its comedic tone of voice.
Whether it's through heartwarming stories, controversial topics, or comedic articles, each publication appears to have established a unique tone of voice that produces specific emotional reactions among its online readership.
Final Reflections
The findings of this industry report allow digital news publications to be able to adapt their strategies to effectively reach and engage with different audiences in the ever-changing digital landscape. By understanding generational preferences and the power of social media platforms as a distribution channel for news, publications can thrive in an increasingly competitive and dynamic media environment.
If you're interested in how Embryo can contribute to your digital marketing strategy and provide reports in your industry, please reach out to our team via 0161 327 2635 or [email protected].
---
Our Methodology
This research looks to understand which publications are the most visited by different generations, which publications have the most engagement, what emotion each publication elicits, as well as its popularity by gender.
"Publication by generation"- This was calculated using YouGov Profiles, which surveyed 106,051 Brits asking which newspaper websites they had visited the most in the last 30 days. This research was then split by generation (Genz, Millennial, Gen X, Baby Boomer, and Silent Generation) to understand popularity.
"Publication by engagement and emotion" – This was calculated using Buzzsumo which analyses articles shared on social media over the last 5 years. Focusing on the social reactions of those articles i.e. Angry, haha, love, sad, wow, as well as the proportion of articles written vs. shared/engaged with. This is then coupled with SimilarWeb which analyses visit duration, on-site engagement, and audience demographics of visitors.
All of which combined to give a detailed overview of how audiences engage with publications.
Sources: