The world of social media is constantly changing, and this week is no exception! As the Head of Paid Social, it's my job to make sure that we're staying on top of every new feature that's released – it can be quite a tough task! From new platform updates to ads policies, I've gathered up some key things you should know about from the past week. 
Twitter's Forecasting
Perhaps one of the most exciting updates from the paid social world is the rollout of Twitter's campaign planning tool. Their aptly named 'Campaign Planner' will allow users to forecast their performance before actually launching their campaign. According to Twitter, the tool helps predict reach, impressions, average frequency, and CPM for your campaigns, in addition to recommending budgets for your specific audience and campaign duration.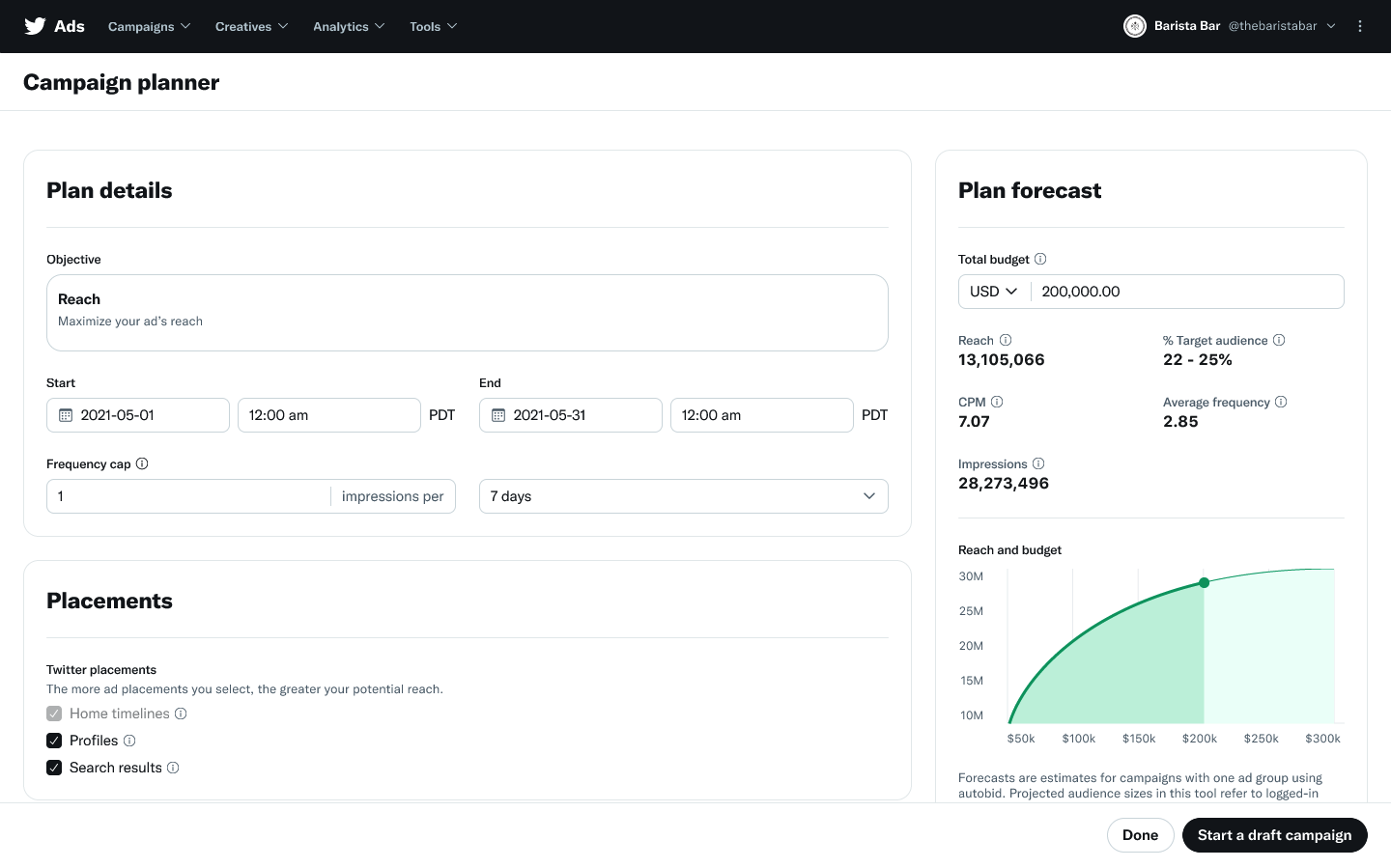 Image Credit: Twitter Business
The ability to forecast might sound quite mundane to the PPC experts amongst us, but this is something that paid social teams have been crying out for. Don't get too excited about it just yet though, as it's only been rolled out to Twitter Partners for now whilst they're testing it. Still, it's a step in the right direction!
Facebook's Pushing Legitimate Reviews 
If you work in social media, you know that Facebook reviews have always been a sore subject. Sometimes you can get hounded with fake negative reviews and not be able to do much about it, whereas your competitors are inundated with 5 stars that definitely don't look real. Well, that's about to change (in the US at least). 
Meta is now implementing new processes to detect false and misleading reviews, ensuring that reviews are 'based on real purchasing experiences'. There are going to be clear rules and guidelines in place, disallowing things such as incentivisation (free gifts for leaving a review), spam reviews, and irrelevant reviews that don't actually relate to the product. 
Facebook's going to police this with automated technology, so its efficacy is likely to leave a lot to be desired. That being said, if they're pushing it so heavily we should see some positive impact. Hopefully, it goes well and is pushed out to the rest of the world. 
Move Over LinkedIn Articles, it's Time for Twitter Notes
Having seen the success of LinkedIn's Pulse Articles, it appears that Twitter has now decided to jump on the bandwagon and launch its own version – Twitter Notes! (Yes, you can copy my homework but change it up a little.) 
The feature works pretty much the same as the LinkedIn version, with a snippet card being shown in the feed and the ability to update header images and titles. According to Twitter, with Notes, you will have the ability to write up to 2,500 words! The kicker comes with this … you'll also be able to edit your notes once they've gone live. Thank you, Twitter! Twitter is also copying LinkedIn's ability for users to read the content without needing to log into the platform, as each blog post will have its own unique URL. 
Overall, we're pretty happy about this feature and looking forward to seeing how brands/users play around with this on a less 'professional' platform. 
"iOS 14 Who?" TikTok Launches Attribution Manager
Talk to anyone who works in paid social about 'attribution' and be ready for chaos. However, TikTok advertisers can now take in a big deep breath as the platform has launched its new 'Attribution Manager'. 
The new feature is a little bit of a pre-iOS Facebook throwback, allowing advertisers to set custom attribution windows for each of their campaigns, stretching up to the previously well-loved 28-day click window. The platform will still, by default, set your window to the same as Facebook's – 7-day click or 1-day view – but it's nice to be able to see the different options and use them where you think will work best. If you're trying to capture website traffic audiences, for example, this will be a real benefit. 
TikTok already removed the option for users to opt out of targeted ads earlier last year, so it does seem a little nostalgic that it's becoming so similar to Facebook of years gone by. Maybe an update will catch them up soon too, but for now, let's all rejoice and take advantage of lots and lots of data. 
Instagram Tries to Protect Younger Users
Instagram is perhaps social media's most controversial platform when it comes to its mental health impact on teens. Yesterday, Instagram announced new security measures with the aim of detecting and protecting young users. Once again, the measures will first be released in the US, but it does sound promising. Facebook has stated the following:
"Starting today, we're testing new options for people on Instagram to verify their age, starting with people based in the US. If someone attempts to edit their date of birth on Instagram from under the age of 18 to 18 or over, we'll require them to verify their age using one of three options: upload their ID, record a video selfie or ask mutual friends to verify their age."
There's no doubt that teens will likely find their way around these systems, but they do seem quite solid. It's nice to see Instagram acknowledging its downfalls and attempting to put measures in place to improve them. 
If you're looking for an agency that has its finger on the pulse of all things social media, get in touch.